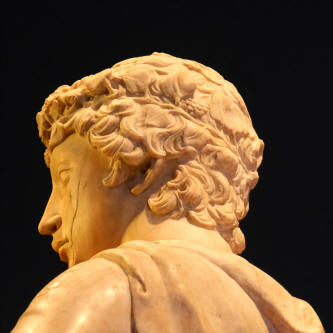 First in a series of pages devoted to
Donatello & Cézanne...
I - Donatello: details from Florence
and a short text that...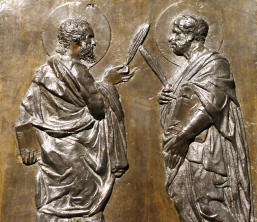 brooks no argument.
. . . . . . . . . . . . . . . . . . . . . . . . .
One of the great books on Donatello carries the sub-title "Prophet of Modern Vision"; few hyperbolic titles are so apt.
Of course the term 'modern vision' needs to be fleshed out, but it has to mean something that suggests an earthiness of realism, an urgency of expression and vividness of motive life, and a use of stylistic devices in the service of communication rather than for their own sake.
Ah, but most if not all of that is represented by Rembrandt, for instance, or Goya, and is not exclusively 'modern'. What I find with Donatello is that, beyond these strident traits, his ability to make grand the intimate, and close-to the far, has no subsequent pioneer or master before Picasso.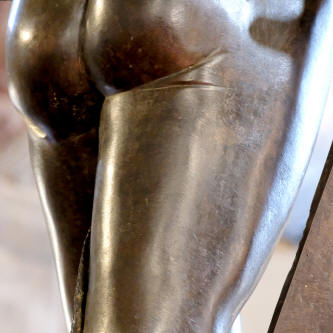 More than a prophet, Donatello was also indeed a pioneer.
He worked in the thick of the new excitement at the vivid supposed realism of 'linear' perspective; he was moreover one of its great innovators. It is a commonplace to observe his mastery of vanishing points and his adventurous understanding of extreme viewpoints, the object seen from well below its position most of all; but almost alone of those pioneers, he went beyond what is so often the geometric constipation of composition we see in the various 'ideal towns' & complex interiors & vases, to give us a breathing involvement in the subject.
Apart from his creative genius he had the advantage of conducting his research in the new perspective not on two-dimensional surfaces, but in three dimensions. The mere fact of sculpting gave him access to an understanding not merely of how to use this precise and prescriptive perspective but also of how to slacken it. The mere exercise of sculpture inspired him to remember that when we look out upon the world we move, we are not the neat single point that the geometries require, that we have not only two eyes but two feet.
His mastery of the supposed realism vouchsafed by the perspective that so excited his contemporaries, gave him mastery of breaking the rules, leaving strewn aside both the fixed point and the pretence of realism.
Fanciful as it may seem, the fact that not a single drawing by Donatello survives makes me wish it were true that he never made one. (Only Picasso could have drawn what makes a Donatello tick with life.) But alas, the historical probability of any of his drawings surviving — it was Vasari (b.1511) who first really took artists' drawings seriously enough to collect yet had none by Donatello... — is so explicably thin that my wish is but a wish.
These Donatassos are not to make a heavy causal point, just to make us think...
Coming back from Florence with over 300 pictures, I realise I am about 3,000 short. No photograph can give you much of an idea and I have not had the proper possibility of filming from a moving standpoint. But for what they are worth, the photographs that follow, almost exclusively of details and especially of expressions, hands & feet, and hair, may help supplement the Florence catalogue and even Hartt's wonderful big book.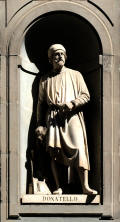 The show moves to Berlin (autumn 2022) and to London (early spring 2023) and each venue is producing its own catalogue. I have assumed that the Florence catalogue will be the largest, since many works are not leaving Italy while most works outside Italy seem to have come to Florence.
Yet, since it omits some transportable works (such as the Mary Magdalene) which were not moved to the venues of the exhibition, as well as fixed works (the Santa Croce Annunciation for instance or the pulpits in San Lorenzo) which could not be moved, the catalogue is still not a full catalogue raisonné of the complete works of Donatello... It also has no index, which is a sin as well as a nuisance.
Note that in London for the four weeks beginning 11th February 2023, you can see the great Chicago massive Cézanne show (Tate Moderne till 12th March) and the Donatello at the V&A. See you there. More on this topic soon...
The works are listed in chronological order with title, date, and current location, and the reference to the Florence catalogue by number & page. All full images have been reduced to a maximum of 1500 pixels on the longest dimension.
If you wish to have a larger image, contact me; if you reproduce what is here, please credit me.
---
This page is dedicated to the memory of J-J
in lamentation at the void he leaves and celebration of the wonder & wisdom too.
---
---
David Victorious (marble); 1408/09, 1416,
Bargello, Florence (1.1, p.112)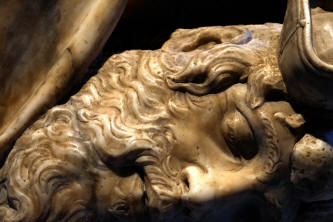 ---
Crucifix (wooden); c.1408,
Santa Croce, Florence (1.2, p.114)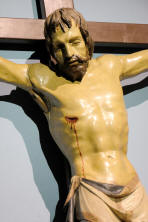 ---
Virgin & Child (terracotta); c.1414,
London (2.2; p.124)
---
Virgin & Child (terracotta); c.1414,
Detroit (2.3, p.126)
---
Virgin & Child (terracotta); c.1415/20,
Prato (2.4, p.128)
---
Virgin & Child (terracotta); c.1415,
Berlin (2.5, p.130)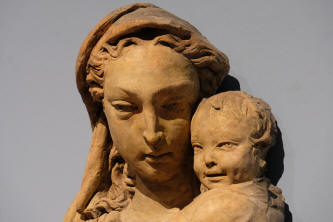 ---
Marzocco (macigno stone, white & red marbles);
1420, Bargello, Florence (12.2, p.352)
---
Virgin & Child (terracotta); c.1420/23,
Museo Stefano Bardini, Florence (2.7, p.134)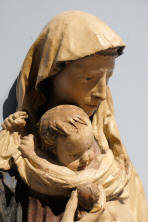 ---
Saint Louis of Toulouse (gilded bronze); 1418-25,
Santa Croce, Florence (3.1, p.144)
---
Reliqary of Saint Rossore (gilded bronze);
c.1422/25, Pisa (3.2,p.146)
---
Hope (gilded bronze); 1427/29,
Siena (3.4, p.150)
---
Virgin & Child (Pazzi Madonna) (marble); c.1422,
Berlin (4.1, p.170)
---
Virgin & Child with 4 Angels (Hildburgh Madonna) (marble);
c.1420/30, London (4.4, p.176)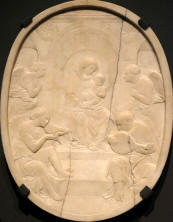 ---
Feast of Herod (gilded bronze); 1423-7,
Siena (4.8, p.184)
---
Dancing Spiritello (bronze); 1429,
Bargello, Florence (5.1, p.194) — and
Spiritello with Tambourine (bronze); 1429,
Berlin (5.2, p.196)
---
Attis-Amorino (partly gilded bronze); c.1435/40,
Bargello, Florence (5.6, p.204)
---
Spiritelli Candelabra-Holders (bronze with traces of gilding); c.1436/38,
Paris (5.4, p.200) — and
Spiritello with a Fish (bronze); c.1435-40 London (5.3, p.198)
---
Dance of Spiritelli (marble and mosaic of ceramic tiles glazed & formerly gilded)
(2 panels, with Michelozzo); 1434-38, Prato (6.2 & 6.4, pp.216 & 220)
---
Pulpit Capital (bronze with traces of gilding) (with Michelozzo);
1433, Prato (6.1, p.214)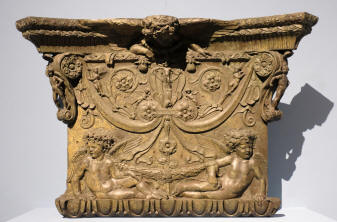 ---
David Victorious (partly guilded bronze); c.1435/40,
Bargello, Florence (12.3, p.354)
---
Virgin & Child (Goretti Miniati Madonna) (marble & glass) (& assistant);
c.1435, Bargello, Florence (6.6, p.224)
---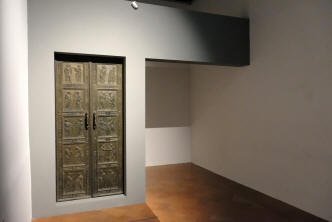 Doors of the Martyrs & Doors of the Apostles (bronze); c.1440/42, San Lorenzo, Florence (7.1, 7.2, pp.236, 238)
---
Saint John the Baptist (Casa Martelli) (marble); c.1442,
Bargello, Florence (8.1, p.244)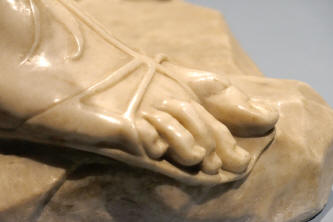 ---
Virgin & Child (Madonna of the Cherubs) (terracotta, formerly painted);
c.1440/45, Berlin (8.4, p.250)
---
Dead Christ Tended by Angels (marble); c.1435,
London (9.1, p.282)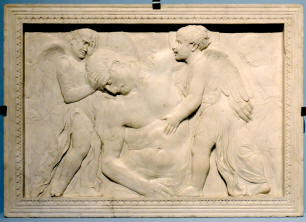 ---
Dead Christ Tended by Angels (partly gilded bronze); c.1449-50,
Padua (9.2, p.284)
---
Crucifix (bronze); 1443/44-1448/49,
Padua (9.7, p.294)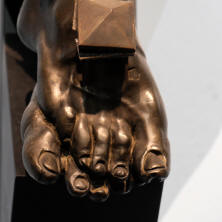 ---
Miracle of the Mule (partly gilded bronze); c.1446/9,
Padua (9.9, p.300)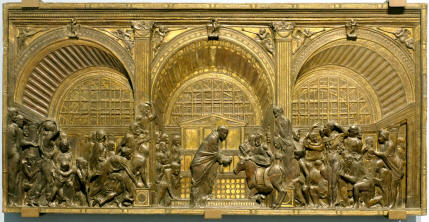 ---
Flagellation and Calvary (Forzori Altar) (terracotta); c.1450,
London (9.10, p.302)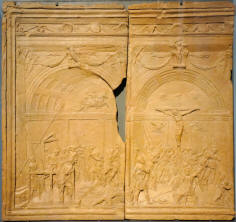 ---
Virgin & Child (Chellini Madonna) (partly gilded bronze); c.1450/55,
London (10.2, p.316)
---
Virgin & Child (Madonna of the Little Chair) (gilded terracotta);
c.1455, London (10.1, p.314)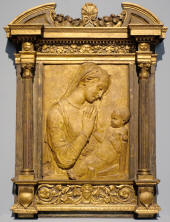 ---
Floor Tomb of Bishop Giovanni Pecci (bronze with inserts);
c.1448/50, Siena (10.3, p.318)
---
Saint John the Baptist (bronze); c.1455/57, 1465,
Siena (10.5, p.322)
---
Bearded Head (bronze); c.1455,
Bargello, Florence (11.3, p.336)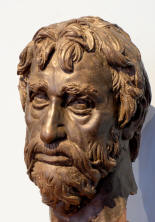 ---
Lamentation over the Dead Christ (bronze); c.1458/60,
London (10.1, p.320)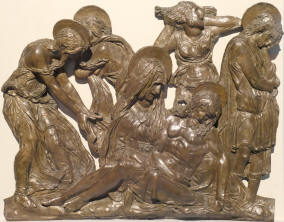 ---
é
return to top é